The Big of the Year winners are announced annually on Thank Your Mentor Day, part of National Mentoring Month. This year, the local campaign is empowered by DotDotSmile, a proud sponsor guided by a purpose to Create Smiles and Build Confidence. DotDotSmile believes in people and helping them to a path where they can thrive.
Kyle Cormier, 2020 Big Brother of the Year
BIG BROTHER TO ZAHIR SINCE JANUARY 2017
Kyle Cormier has been named the 2020 Big Brother of the Year for his advocacy on behalf of the agency and for being an unwavering support system for his Little Brother Zahir.
As a quiet child, Zahir had always struggled to communicate with his parents and teachers. But it became much worse after his father died when Zahir was just seven years old. Zahir's grades dropped, he became fearful of new experiences, and he started isolating himself from his family.
At 10 years old, Zahir was matched with his Big Brother. Ever since the day they met, Kyle has been incredibly understanding and patient with Zahir. He slowly earned Zahir's trust that first year by being a consistent and joyful presence in his life. Every other weekend, without fail, Zahir knew Kyle would be knocking on his door for their next adventure.
Zahir's fear of doing new things also started to diminish as he got used to trying new experiences on their bi-monthly outings. Kyle took Zahir hiking and fishing for the first time. They crossed "go to an Angels baseball game" off Zahir's wish list. Kyle even helped Zahir finally conquer the monkey bars.
"The thing I'm proud of isn't the fact that I'm able to persuade him to try new things," Kyle said. "It's that he trusts me enough to know that I wouldn't put him in danger, and from that he's able to overcome the fear that was holding him back all on his own."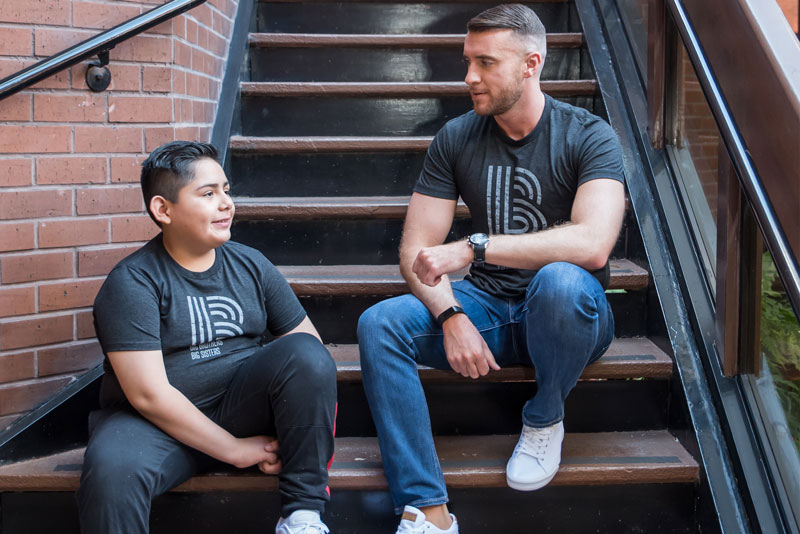 Now instead of isolating himself and shying away from any kind of attention, Zahir participates in Ballet Folklorico where he performs in front of hundreds of people. His grades have improved and he puts more effort into school because Kyle is always checking in with him. With his Big Brother's guidance and support, Zahir's potential has been ignited.
Last week, Kyle and Zahir celebrated their three-year match anniversary. Over the years, Kyle has become Zahir's "safe space" by showing great empathy while helping his Little Brother work through his fears and anxieties. As a result of Kyle's compassionate approach to mentorship, Zahir has grown into a confident young teenager with a bright future ahead of him.
"After experiencing Zahir's situation first-hand and seeing the positive impact Big Brothers Big Sisters has had on him, it would be hard for me to not support the agency's cause knowing there are other youth out there in similar situations who could benefit from the program," Kyle said. "The most rewarding part about sharing my match story with others has been giving them a different perspective about volunteering than they might have had before, and hopefully inspiring them to volunteer themselves."