THANK YOU TO OUR PARTNERS
Auxiliary groups, grants, foundations and corporate partnerships allow us to make meaningful matches between adult mentors and children in our local community. Their support helps ensure children in the Big Brothers Big Sisters programs live up to their full potential.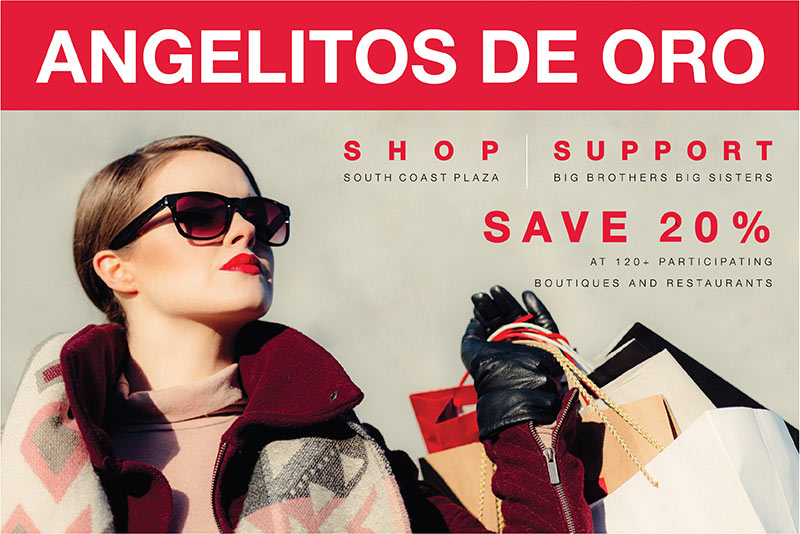 Established in 1961, Angelitos de Oro is a volunteer auxiliary that raises funds for Big Brothers Big Sisters of Orange County, while also fostering community interest in the agency's one-to-one mentoring programs.
To date, Angelitos de Oro has raised nearly $6,000,000 for Big Brothers Big Sisters, primarily through the sale of the Angelitos shopping card in October.
For a $60 donation, shoppers receive an exclusive 20 percent savings at participating South Coast Plaza boutiques and restaurants for an entire week. In turn, those funds support life-changing matches between mentors and children in the community facing significant challenges. Currently, the funds raised by Angelitos de Oro support our High School Bigs program.
Enjoy ocean breezes and a day on the links featuring on-course games, food trucks and spirits—all benefiting Orange County youth through the life-changing mentoring programs at Big Brothers Big Sisters.

Thank you to GetResponse email marketing service for helping us grow our relationships and communicate our urgent mission with our community through the GetResponse for Nonprofits Program.

A. Gary Anderson Family Foundation
ACT Anaheim
Albert B. Cutter Memorial
Arrowhead United Way
Bank of America Foundation
BBVA Compass
Broadcom Foundation
C.R. Bard Foundation
California Endowment
Capital Group Companies
Carl E. Wynn Foundation
CarMax Foundation
City of Anaheim
City of Rialto
City of Riverside
City of Stanton
County of Riverside
County of Riverside, Board of Supervisors
Cox Charities Orange County
Croul Family Foundation
Darden Restaurant Foundation
Devto Fund, a donor advised fund of the Desert Community Foundation
Draper Family Foundation
Edison International
Edward and Helen Shanbrom Family Fund
Edwards Lifesciences
Employees Community Fund of Boeing California
Fieldstead & Company
Fieldstead and Company


Fontana Hope Foundation
George Hoag Family Foundation
Grace Helen Spearman Foundation
Harriet E. Pfleger Foundation
Hoag Memorial Foundation
In-N-Out Burger Foundation
Inland Empire Funders
Inland Empire United Way
Insurance Industry Charitable Foundation
Jack in the Box Foundation
Joe MacPherson Foundation
KaBoom Foundation
Kaiser Foundation Hospitals, Fontana
LeVecke Family Foundation
Lon V. Smith Foundation
Majestic Realty Foundation
Marisla Foundation
McBeth Foundation
Molino Health Care
Niagara Cares
Office of Justice and Juvenile Delinquency Prevention
Orange County Community Foundation
Pacific Life Foundation
PIMCO Foundation
Richard & Elizabeth Steele Fund
Riverside Rotary Foundation
Riverside Rotary Foundation
Rockwell Collins
San Bernardino County Gangs and Drugs Taskforce


San Manuel Band of Mission Indians
Sempra Energy Giving Network
Shady Canyon Golf Club Charitable Foundation
Shanbrom Family Foundation
Sisters of St. Joseph Healthcare Foundation
Smart & Final Charitable Foundation
Staples Foundation
Taco Bell Foundation
Tarsadia Foundation
The Allergan Foundation
The Capital Group Companies Charitable Foundation
The Community Foundation, Community Impact Fund
The Community Foundation, Stebler Fund
The Community Foundation, Youth Grantmakers Fund
The Robinson Foundation
The TJX Foundation
Tustin Community Foundation
U.S. Bank Foundation
Ueberroth Family Foundation
Union Bank
United Healthcare Foundation
United Way Inland Valleys
United Way of Corona-Norco
Waltmar Foundation
Wells Fargo Dealer Services
Wells Fargo Foundation
Western Digital Foundation
A. Gary Anderson Family Foundation
ACT Anaheim
Albert B. Cutter Memorial
Arrowhead United Way
Bank of America Foundation
BBVA Compass
Broadcom Foundation
C.R. Bard Foundation
California Endowment
Capital Group Companies
Carl E. Wynn Foundation
CarMax Foundation
City of Anaheim
City of Rialto
City of Riverside
City of Stanton
County of Riverside
County of Riverside, Board of Supervisors
Cox Charities Orange County
Croul Family Foundation
Darden Restaurant Foundation
Devto Fund, a donor advised fund of the Desert Community Foundation
Draper Family Foundation
Edison International
Edward and Helen Shanbrom Family Fund
Edwards Lifesciences
Employees Community Fund of Boeing California
Fieldstead & Company
Fieldstead and Company
Fontana Hope Foundation
George Hoag Family Foundation
Grace Helen Spearman Foundation
Harriet E. Pfleger Foundation
Hoag Memorial Foundation
In-N-Out Burger Foundation
Inland Empire Funders
Inland Empire United Way
Insurance Industry Charitable Foundation
Jack in the Box Foundation
Joe MacPherson Foundation
KaBoom Foundation
Kaiser Foundation Hospitals, Fontana
LeVecke Family Foundation
Lon V. Smith Foundation
Majestic Realty Foundation
Marisla Foundation
McBeth Foundation
Molino Health Care
Niagara Cares
Office of Justice and Juvenile Delinquency Prevention
Orange County Community Foundation
Pacific Life Foundation
PIMCO Foundation
Richard & Elizabeth Steele Fund
Riverside Rotary Foundation
Riverside Rotary Foundation
Rockwell Collins
San Bernardino County Gangs and Drugs Taskforce
San Manuel Band of Mission Indians
Sempra Energy Giving Network
Shady Canyon Golf Club Charitable Foundation
Shanbrom Family Foundation
Sisters of St. Joseph Healthcare Foundation
Smart & Final Charitable Foundation
Staples Foundation
Taco Bell Foundation
Tarsadia Foundation
The Allergan Foundation
The Capital Group Companies Charitable Foundation
The Community Foundation, Community Impact Fund
The Community Foundation, Stebler Fund
The Community Foundation, Youth Grantmakers Fund
The Robinson Foundation
The TJX Foundation
Tustin Community Foundation
U.S. Bank Foundation
Ueberroth Family Foundation
Union Bank
United Healthcare Foundation
United Way Inland Valleys
United Way of Corona-Norco
Waltmar Foundation
Wells Fargo Dealer Services
Wells Fargo Foundation
Western Digital Foundation
A. Gary Anderson Family Foundation
ACT Anaheim
Albert B. Cutter Memorial
Arrowhead United Way
Bank of America Foundation
BBVA Compass
Broadcom Foundation
C.R. Bard Foundation
California Endowment
Capital Group Companies
Carl E. Wynn Foundation
CarMax Foundation
City of Anaheim
City of Rialto
City of Riverside
City of Stanton
County of Riverside
County of Riverside, Board of Supervisors
Cox Charities Orange County
Croul Family Foundation
Darden Restaurant Foundation
Devto Fund, a donor advised fund of the Desert Community Foundation
Draper Family Foundation
Edison International
Edward and Helen Shanbrom Family Fund
Edwards Lifesciences
Employees Community Fund of Boeing California
Fieldstead & Company
Fieldstead and Company
Fontana Hope Foundation
George Hoag Family Foundation
Grace Helen Spearman Foundation
Harriet E. Pfleger Foundation
Hoag Memorial Foundation
In-N-Out Burger Foundation
Inland Empire Funders
Inland Empire United Way
Insurance Industry Charitable Foundation
Jack in the Box Foundation
Joe MacPherson Foundation
KaBoom Foundation
Kaiser Foundation Hospitals, Fontana
LeVecke Family Foundation


Lon V. Smith Foundation
Majestic Realty Foundation
Marisla Foundation
McBeth Foundation
Molino Health Care
Niagara Cares
Office of Justice and Juvenile Delinquency Prevention
Orange County Community Foundation
Pacific Life Foundation
PIMCO Foundation
Richard & Elizabeth Steele Fund
Riverside Rotary Foundation
Riverside Rotary Foundation
Rockwell Collins
San Bernardino County Gangs and Drugs Taskforce
San Manuel Band of Mission Indians
Sempra Energy Giving Network
Shady Canyon Golf Club Charitable Foundation
Shanbrom Family Foundation
Sisters of St. Joseph Healthcare Foundation
Smart & Final Charitable Foundation
Staples Foundation
Taco Bell Foundation
Tarsadia Foundation
The Allergan Foundation
The Capital Group Companies Charitable Foundation
The Community Foundation, Community Impact Fund
The Community Foundation, Stebler Fund
The Community Foundation, Youth Grantmakers Fund
The Robinson Foundation
The TJX Foundation
Tustin Community Foundation
U.S. Bank Foundation
Ueberroth Family Foundation
Union Bank
United Healthcare Foundation
United Way Inland Valleys
United Way of Corona-Norco
Waltmar Foundation
Wells Fargo Dealer Services
Wells Fargo Foundation
Western Digital Foundation
211
Child Abuse Prevention Center
Orange County Gang Reduction
Intervention Partnership
Anaheim Gang Reduction Intervention
Partnership
Community Services Program Inc. (CSP)
Human Options
Kinship Center Orange County
Mariners Church
Orange County Mental Health
Olive Crest
Phoenix House
Project Access
Project Renew
Project Hope Alliance
Providence Service Corporation
Orange County Social Service Agency
Western Youth Services
Discovery Cube Orange County
Girls, Inc.
Anaheim Union High School District
Orange County District Attorney's Office
Orange County Sheriff
Orange County Probation
Network Anaheim
211
Child Abuse Prevention Center
Orange County Gang Reduction Intervention Partnership
Anaheim Gang Reduction Intervention Partnership
Community Services Program Inc. (CSP)
Human Options
Kinship Center Orange County
Mariners Church
Orange County Mental Health
Olive Crest
Phoenix House
Project Access
Project Renew
Project Hope Alliance
Providence Service Corporation
Orange County Social Service Agency
Western Youth Services
Discovery Cube Orange County
Girls, Inc.
Anaheim Union High School District
Orange County District Attorney's Office
Orange County Sheriff
Orange County Probation
Network Anaheim
211
Child Abuse Prevention Center
Orange County Gang Reduction
Intervention Partnership
Anaheim Gang Reduction Intervention
Partnership
Community Services Program Inc. (CSP)
Human Options
Kinship Center Orange County
Mariners Church
Orange County Mental Health
Olive Crest
Phoenix House
Project Access
Project Renew
Project Hope Alliance
Providence Service Corporation
Orange County Social Service Agency
Western Youth Services
Discovery Cube Orange County
Girls, Inc.
Anaheim Union High School District
Orange County District Attorney's Office
Orange County Sheriff
Orange County Probation
Network Anaheim
Aetna
Allergan
Angels Baseball
AT&T
Auction.com
C-Level Management
CareerArc
Cla-Val
Compass Group Management
Cox Communications
Disneyland Resort
Edison International
Experian
Farmers & Merchants Bank
Fidelity Investments
First American Corporation
Gala Investments LTD
Glenmorangie Scotch
Golden State Foods
Honda Center
Howard Building Corporation
Jack in the Box
KDF Communities
KPMG
Latham & Watkins
Majestic Realty
Mathis Brothers Furniture
Nerium
New American Funding
OMB, Inc.
Pacific Hospitality Group
Pacific Life
Pricewaterhouse Coopers
Raging Waters
Redbrick Health
Rutan & Tucker
SA Recycling
Sterling BMW
Stradling, Yocca, Carlson & Rauth
Success Factors
The Color Run
Towers Watkins
Union Bank
United Health Care
US Bancorpt
US Trust
Vizio
VPM Management
Western National Group
Aetna
Allergan
Angels Baseball
AT&T
Auction.com
C-Level Management
CareerArc
Cla-Val
Compass Group Management
Cox Communications
Disneyland Resort
Edison International
Experian
Farmers & Merchants Bank
Fidelity Investments
First American Corporation
Gala Investments LTD
Glenmorangie Scotch
Golden State Foods
Honda Center
Howard Building Corporation
Jack in the Box
KDF Communities
KPMG
Latham & Watkins
Majestic Realty
Mathis Brothers Furniture
Nerium
New American Funding
OMB, Inc.
Pacific Hospitality Group
Pacific Life
Pricewaterhouse Coopers
Raging Waters
Redbrick Health
Rutan & Tucker
SA Recycling
Sterling BMW
Stradling, Yocca, Carlson & Rauth
Success Factors
The Color Run
Towers Watkins
Union Bank
United Health Care
US Bancorpt
US Trust
Vizio
VPM Management
Western National Group
Aetna
Allergan
Angels Baseball
AT&T
Auction.com
C-Level Management
CareerArc
Cla-Val
Compass Group Management
Cox Communications
Disneyland Resort
Edison International
Experian
Farmers & Merchants Bank
Fidelity Investments
First American Corporation
Gala Investments LTD
Glenmorangie Scotch
Golden State Foods
Honda Center
Howard Building Corporation
Irvine BMW
Jack in the Box
KDF Communities
KPMG
Latham & Watkins
Majestic Realty
Mathis Brothers Furniture
Nerium
New American Funding
OMB, Inc.
Pacific Hospitality Group
Pacific Life
Pricewaterhouse Coopers
Raging Waters
Redbrick Health
Rutan & Tucker
SA Recycling
Stradling, Yocca, Carlson & Rauth
Success Factors
The Color Run
Towers Watkins
Union Bank
United Health Care
US Bancorpt
US trust
Vizio
VPM Management
Western National Group