For the second time in as many years, GSF Foundation (GSFF) held a Bike Building event at Big Brothers Big Sisters of Orange County (BBBS) to give 30 local kids a new set of wheels and a mentor for the day.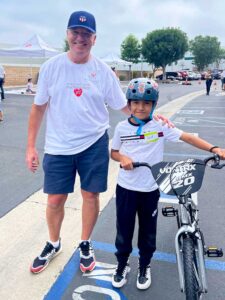 The GSFF Bike Build program provides the opportunity for Golden State Foods volunteers to mentor a child in building a bike together. The children at the event on July 22 are currently on the waitlist for BBBS' Community mentoring program, where adults (Bigs) are matched with a child aged 6 to 16 (Little.)
EMPOWERING YOUTH BY BUILDING TOGETHER
Associate volunteers helped teach kids fundamental life skills, such as goal setting, safety and the value of hard work to achieve goals, Vanessa Hugon, Programs & Development Manager of GSF Foundation, said.
"Under the guidance of an adult mentor, each child gets to build their very own bike and takes it home along with a big boost of confidence and pride," she said.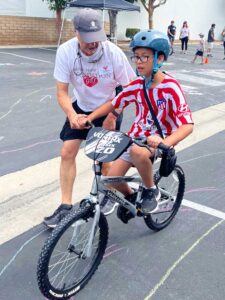 Bianca Carranco, Director of Development of Big Brothers Big Sisters of Orange County, says that with 100 children currently on the program's waitlist, opportunities like the GSFF Bike Building event are a great way for youth to experience the benefits of mentoring while waiting to be matched with a Big of their own.
"We are so grateful to have GSF as our partner in mentorship," she said. "Not only do their associate volunteers support our waitlist Littles by donating bikes and their time at these events, but GSF has also partnered with BBBS to bring a Workplace Mentoring program to its Irvine headquarters."
BRINGING MENTORING TO THE Workplace
Focused on workforce development and youth empowerment, the Workplace Mentoring (WPM) program at GSF, launching this fall, connects Santa Ana College students to corporate mentors who can help jump start their professional development. Students gain exposure to a major corporation and one-on-one time with accomplished mentors like Carol Fawcett, Corporate Vice President and Chief Information Officer of GSF (Pictured right at the Bike Building event on July 22.)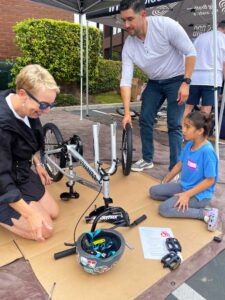 More than 30% of the youth BBBS serves are first-generation students. Even more lack a role model in their life with higher education or corporate experience, Carranco said. The WPM program gives them the opportunity to explore a career path they may never have considered within their reach.
"Our Workplace Mentoring partners are helping us create the next generation of corporate leaders, entrepreneurs and innovators in Orange County. GSF's investment in building a more diverse workforce through mentorship will benefit its employees, our young people, and the community at large."
To learn more about the many ways your company can partner with Big Brothers Big Sisters, click here.