Every year Big Brothers Big Sisters recognizes two high school volunteer mentors from the High School Bigs program who have gone above and beyond to make an impact on their mentee, peers and community with the Angelitos Award.
We are honored to recognize Esmeralda Muñoz as the 2021 Big Sister of the Year for her dedication to her mentee and her constant advocacy on behalf of youth mentorship throughout her high school years.
From Elementary School Mentee to High School Volunteer of the Year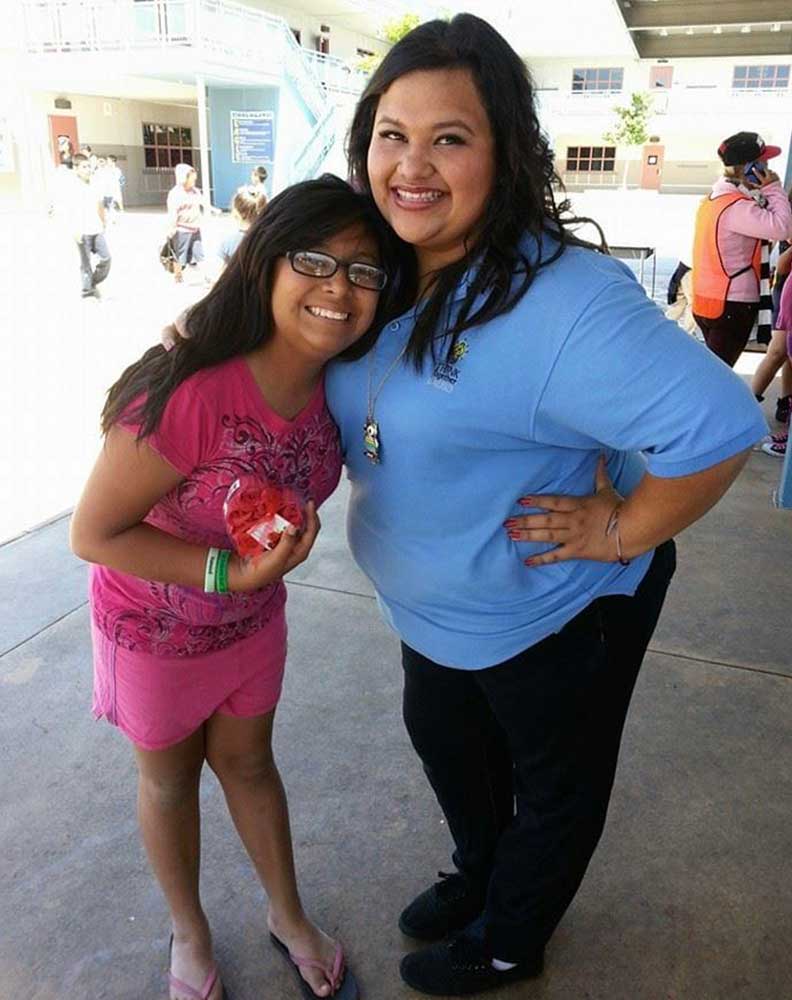 When Esmeralda was an elementary school student, she was paired with a high school volunteer who served as her "Big Sister," her role model, her mentor. Every week Little Sister Esmeralda met with her mentor after school to work on homework together and learn new social-emotional skills. They built a lasting and impactful relationship that ultimately shaped Esmeralda's path over the last four years—and beyond.
High School Bigs had such a positive influence on Esmeralda in her elementary school years, she was determined to re-join the program when she entered high school. Her freshman year she did just that, this time as a mentor to a Little Sister of her own.
A Dedicated High School Volunteer Mentor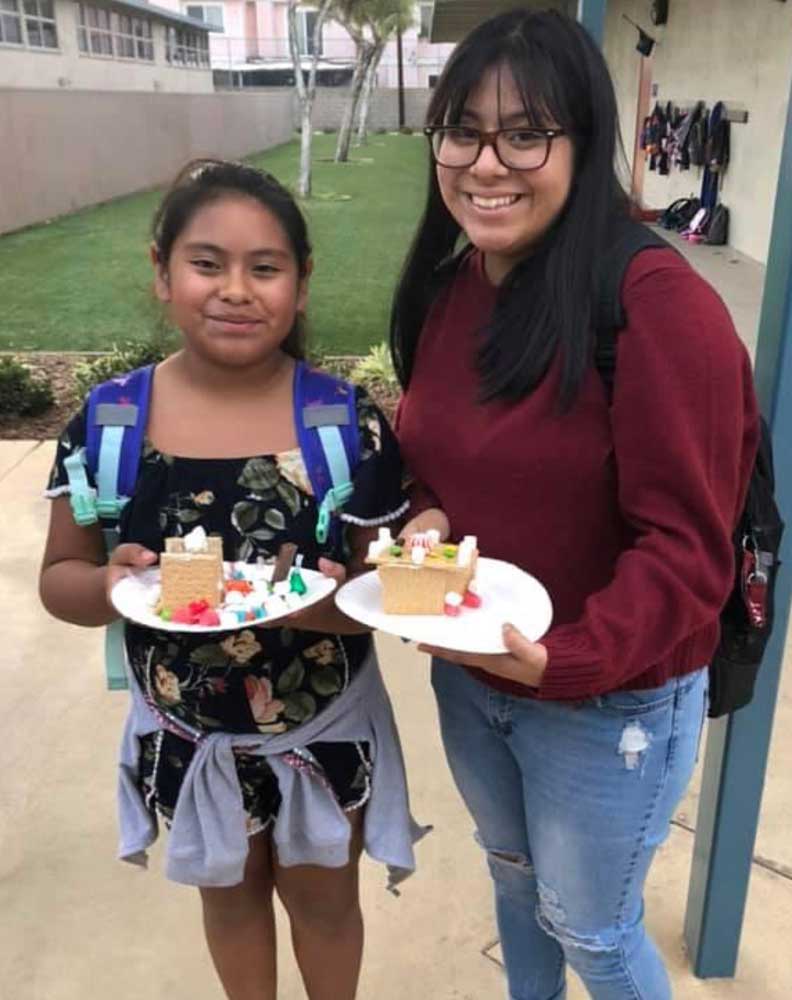 Esmeralda and her Little Sister Gladis had an instant connection from day one. Over the last four years, Esmeralda has helped Gladis meet every challenge that came her way. When Gladis was struggling with reading, Esmeralda would read aloud with her every week; now she reads above her grade level. When Gladis was going through a difficult time in her life, Esmeralda came to sessions early to give Gladis extra one-on-one time and emotional support.
Esmeralda has been extremely dedicated to her mentee's social and academic growth. Now thanks to her Big Sisters' unwavering support, Gladis is ready to take on middle school next fall with plenty of goals and confidence.
"As a mentor, I was able to be there for my Little as she went through obstacles and as she grew as a person," Esmeralda said. "When she is struggling with something, whether it's emotional or academic, she knows that I will be there for her."
A Powerful Advocate for Mentorship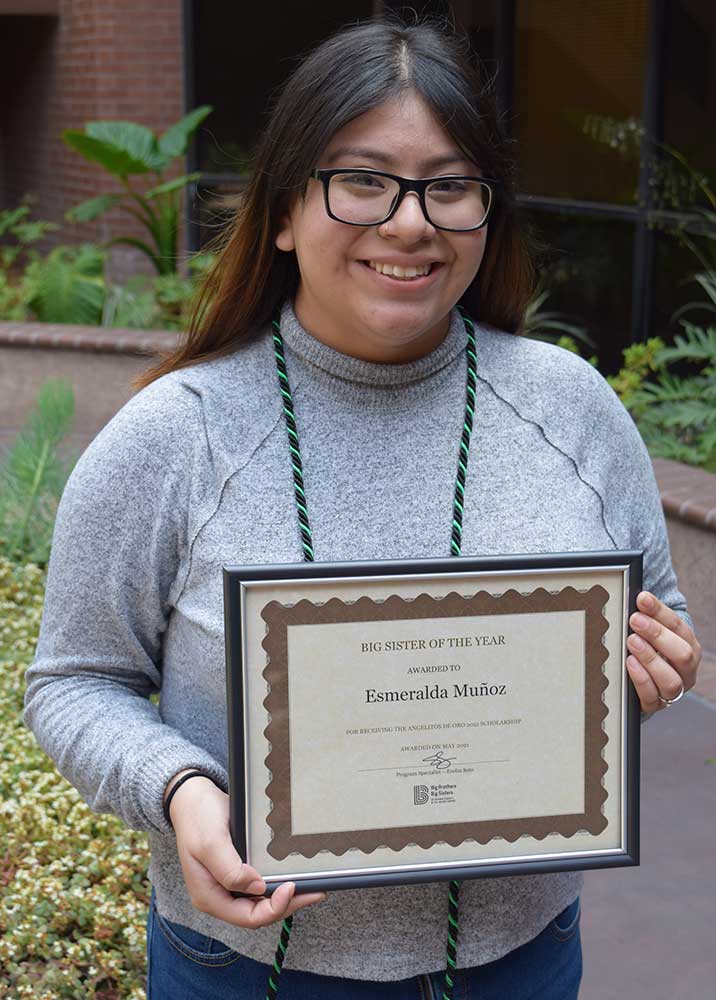 Having grown up in the High School Bigs program, Esmeralda felt compelled to do more than be a mentor to Gladis. She also wanted to spread community awareness about how important it is for people to have a strong support system.
Furthering her commitment to youth mentorship, Esmeralda founded the Big Brothers Big Sisters club at Valley High School. She grew the club from two to 16 members, spearheading successful fundraisers and critical high school volunteer recruitment efforts. Esmeralda was also inspired to start volunteering as a youth leader at her church, organizing food drives and creating a youth mental health group.
"I appreciate Esmeralda for being a great role model, not only to her Little, but also to her peers," said Evelin Soto, Big Brothers Big Sisters program specialist. "We have all been greatly impacted by Esmeralda's activism towards making a positive change in her community."
Looking Ahead to a Bright Future
With the skills and experience she gained through Big Brothers Big Sisters, Esmeralda is now graduating as an inspiring young leader and philanthropist in our community. This fall, Esmeralda will be attending UC Riverside to major in political science. She will continue to advocate for mental health awareness and wants to become an immigration lawyer for low-income families in her community.
As Big Sister of the Year, Esmeralda will be honored with the Angelitos Award and receive a scholarship thanks to the generosity of Angelitos de Oro.