At the end of every academic year, Big Brothers Big Sisters' High School Bigs program recognizes two outstanding high school volunteer mentors with the Angelitos Award. We are honored to recognize Gerson Amaya as the 2021 Big Brother of the Year for the incredible impact he has had on not only his mentee, but also his peers and Valley High School community.
Continue reading to learn more about Gerson's experience in High School Bigs and his plans for the future.
Q&A with High School Bigs' 2021 High School Volunteer of the Year
Q: How has your background growing up shaped you into being an outstanding mentor?
A: I first came to the U.S. in 2012. It was very difficult for me, not knowing much English or having any friends to ask for help. But moving around for a great portion of my life has enabled me to quickly adapt to my new surroundings. Although it has been hard to start back at zero so many times, I took it as an opportunity to become a better example and help the people around me in whichever ways I could. I decided to become a high school volunteer mentor so that kids who are struggling wouldn't feel alone the way I did.
Q: What kind of connection do you feel you have made with your mentee?
A: Joining High School Bigs during my junior year of high school was a step out of my comfort zone as a timid person. When I first came to a session, I was nervous seeing all the Bigs and Littles. But when I got to meet my own Little Brother, Santos, I became more comfortable. I noticed he had a violin, which intrigued me because I also play an instrument. I found it as an opportunity to bond with him. As the year is coming to an end, I am glad we will be able to graduate alongside each other.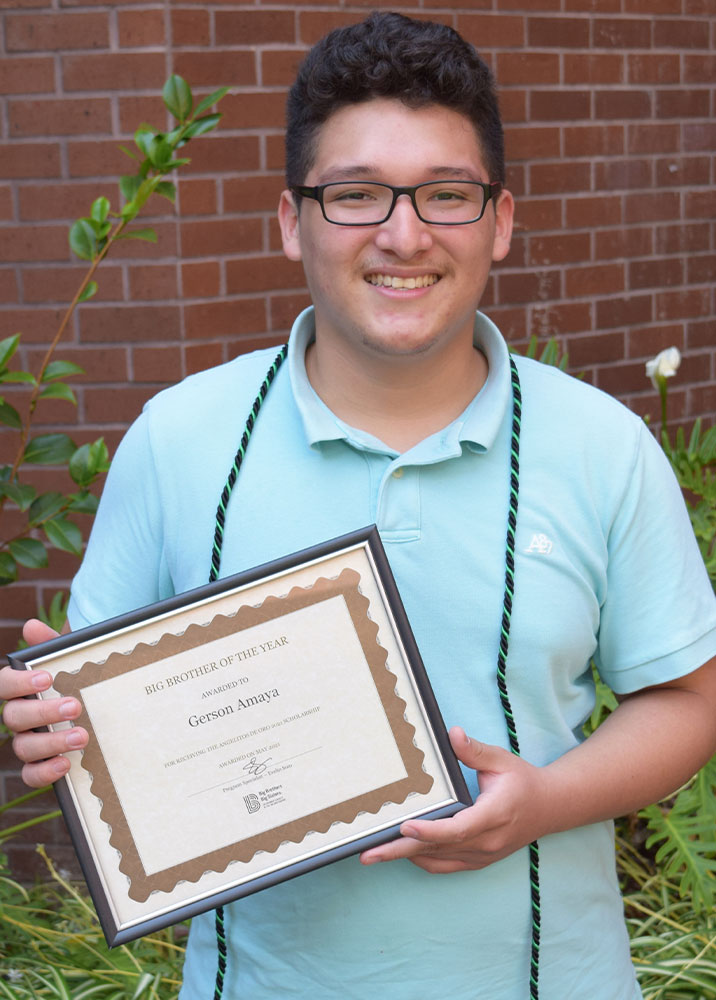 Q: How has your experience as a high school volunteer in High School Bigs helped you grow as a leader?
A: When I started out as a mentor, I also became treasurer of our BBBS club. I was able to take the knowledge I learned from being a part of the cabinet and adapt it to being a leader in my automotive class' Saturday Service Clinic. We offer free auto service to the people in our community on the first Saturday of every month, and I was chosen to be one of two student leaders. My BBBS leadership skills helped me take on this responsibility to make sure the work was done safely for the people in our community.
What's Next
As high school volunteer of the year, Gerson will be honored with the Angelitos Award and receive a scholarship thanks to the generosity of Angelitos de Oro. He plans to pursue a career in the automotive industry and will continue to inspire those around him through giving back to those in need of a helping hand.