Big Brothers Big Sisters of Orange County is proud to announce the recipients of the 2023 High School Bigs Mentor of the Year award. These individuals have been recognized for their outstanding dedication to mentoring and making a positive impact on the lives of their Littles.
This year, we are proud to announce The High School Bigs Mentor of the Year award goes to Sheridan Bailey of Rancho Alamitos High School, in Garden Grove, CA and Ricardo Simon of Buena Park High School in Buena Park, CA 
Both Mentors have demonstrated a true dedication to their Littles by regularly spending time with them, guiding, and supporting them as they navigate the challenges of growing up. They have also been an integral part of the mentorship movement as champions and advocates for the impact positive role models have in our community. 
Sheridan Bailey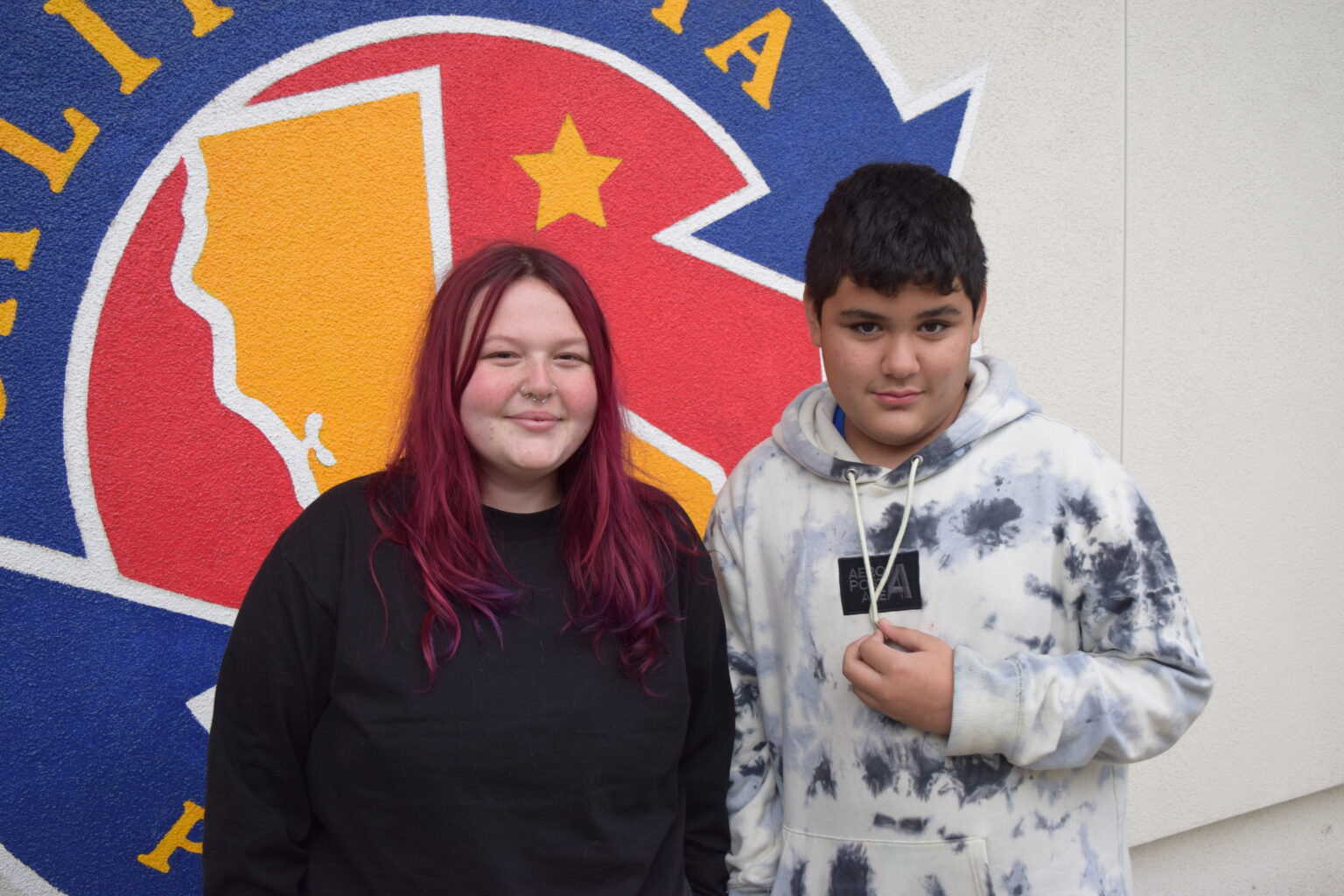 We are inspired by Sheridan's story of mentorship and we hope her journey inspires more people to invest in the potential of youth, and to believe in the power of mentors to change lives, our community, and our society. 
Here is Sheridan's inspiring story in her own words:
A mentor is someone who teaches, helps, gives advice…unfortunately I didn't have one. My father was always weaving in and out of my life like an obstacle course, draining everything he touched in life. My mother had to work two jobs plus drive for Uber and Lyft just to make ends meet. And while my mom did everything she could to make sure I never really experienced the pain of our circumstances, she couldn't be there for me like she wanted to and I needed. 
Now that I am seventeen I am able to help bills and rent. However, even with two incomes, we still struggle with making ends meet. So, college is a lifeline for me. I dream of the day when I will be able to have a high income to support my mom as she has done for me. Yes, life may have been hard, but I have never let it stop me from pursuing my dreams, and today, I am proud to say that I will be a first generation college student, and the first woman ever in my family to attend college.
All of my experiences have inspired me to join Big Brother Big Sister because I never wanted to be there for a child who feels as alone as I did growing up. I wanted kids to realize they will always have someone in their corner to help them and listen. That I was going to be that person to them. I know how important it is for someone to need a mentor. 
Big Brother Big Sisters has been one of the greatest experiences of my life. Over the last four years, I have learned the importance of guidance and care from others. I have met so many wonderful children who have impacted my life more than I have impacted theirs. However, one stands out as truly special; my Little, Sebastian. 
He is funny, witty, smart, sarcastic, shy, and caring. I have known Sebastian for the past four years and he has been my Little for two. When we were matched, it was right after COVID. Coming back to site was strange, and different as most of the regular Bigs and Littles were gone. Sebastian was sitting by himself at a table that was far away from everyone. Watching him sit by himself at the tables didn't seem right, so I made it my mission to get to know him. 
At first, he never spoke or and wouldn't attend the sessions. I kept trying to think of ways to get him to talk to me and show up. I tried asking him questions, and I got one worded responses. Even playing board games, which he loved, wasn't helpful. Then I had a breakthrough. One day while playing outside I tried to talk to him and he kind of said something about his old Big. Right then I knew what was wrong, he missed his old Big; He never really got a chance to say goodbye since she graduated during COVID, and sites were closed. So, I sat with him and we talked about it. Ever since, we have been inseparable. 
Being Sebastian's Big I have had the pleasure of watching him mature into the 6th grader he is today. I have seen him go from a struggling student to a leader, even helping his peers. I am so proud of who Sebastian is becoming.
Sebastian has taught me what it is to unconditionally care for someone who is not blood related. How it is okay to struggle academically as long as you have someone who believes in you. Someone who will not give up on you. That you should undeniably be yourself and be kind to those around you because you never know what the person next to you is going through. That it is okay to let your inner child fly. He has taught me to take it one day at a time. Sebastian has had such an impact on me. 
My Big Brother Big Sisters experience has taught me what it is to be a mentor, a leader, and most importantly a friend. I will continue to be there for Sebastian as he is there for me and I hope to continue to watch him grow and become the young leader that he is on the path to be.
---

Ricardo Simon
Ricardo's mentorship journey is one of personal triumph, beautifully conveying the impact that mentorship can have in the lives of both mentor and mentee. Here is Ricardo's story in his own words: 
I have been through many experiences in my life and have proven to myself that I am resilient.
I never back down and always stay kind. In elementary school I was bullied quite a lot; I was the perfect target after all. Short, skinny, and wore thick glasses. What hurt most was that they didn't like me. It made me question myself. Questions like, "Am I a bad person?" and "am I worth anything?". 
It took years to overcome these anxieties and self-doubts. But I eventually proved to myself that I could do it by getting all A's. Yet, I didn't expect more of myself. I didn't take honors because I was too scared, because I didn't believe I could do it. In high school I struggled with many realities which kept me down, that broke me down, but in the end, I stayed me. I stayed with Ricardo Simon, the kind human who cares.
It was this realization that made all the pain worth it! Because, I pulled through, I stayed me, and was able to be happy. And because I experienced so much, I can relate to people, to those feelings of pain, and make sure they are not alone while they experience it. It also just allows me to explain to others that no matter how hard it gets, you will pull through and I will be here if you need me. That makes a good mentor.
My involvement with Big Brothers Big Sisters made me realize how much I enjoyed giving back. I always tried helping, especially in agriculture because my goal is to become a veterinarian. I've joined clubs and participated in volunteer activities but mentoring Chris, through Big Brothers Big Sisters, has been my main goal. 
Big Brothers Big Sisters is so grateful for the work of Ricardo and Sheridan and their example as change agents in Orange County, both on a personal level with their Littles, and in their support of our mission. We are honored to recognize him as our High School Bigs Mentors of the Year and we can't wait to see what the future holds for them. 
To learn more about High School Bigs, visit ocbigs.org/highschoolbigs.