Big Brothers Brothers Big Sisters is proud to support its LGBTQ community. We strive to be part of the solution in welcoming mentors, mentees, staff and supporters from all walks of life. Together, we ignite the power and promise of all youth.
In this Q&A, Big Couple Xiaopan and Raheesa share about their volunteer experience and why it is important for other members of the LGBTQ community to empower youth through mentorship.
Q&A with LGBTQ mentors Xiaopan and Raheesa
Did you have a mentor growing up? How did their support impact your life?
Xiaopan: My biggest mentor growing up was my dad. He taught me everything I know about interacting with people and how to be a person with strong character and principles in life. In college and grad school, I was fortunate to have many mentors who were there for me when I came out as queer and are still there for me today. These folks showed me unconditional acceptance, love and support and I consider many of them my chosen family today.
Raheesa: I would say that my mom is one of my biggest mentors. She raised me to be who I am today and always loved and accepted me for who I am. She taught me to be kind, respectful and have compassion for all people. I try to spread that to others and hopefully be a positive influence on people.
Why did you want to volunteer as a Big Couple with Big Brothers Big Sisters?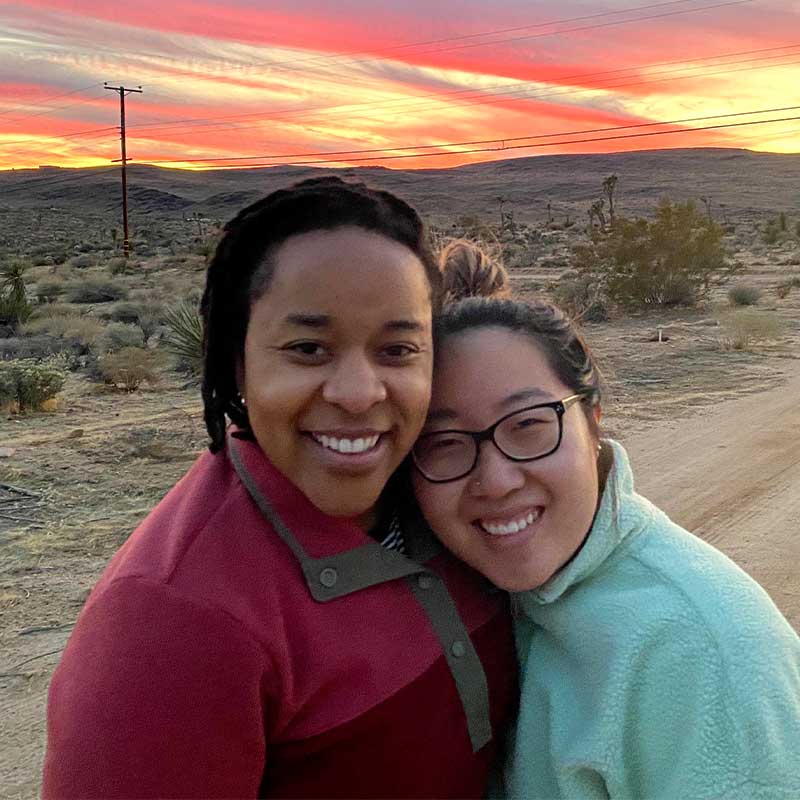 We really wanted to mentor and give guidance to a young person and give back to the community. We were fortunate to grow up with positive influences in our lives that really taught us how to be people with good character and open mindedness. We wanted to pass that on.
Although we didn't grow up with financial privilege, we had familial love and support, which nurtured our growing minds. We also wanted to show that queer couples and queer people can be successful and have happy lives. It is not necessarily easy to be queer and to be a queer couple, but we believe that visibility is important in helping LGBTQIA+ youth feel seen and heard.
Why do you think it's important for members of the LGBTQ community to become mentors?
Having LGBTQIA+ mentors is extremely important because it makes the youth feel heard and seen, especially if they identify as queer. For the youth who may not identify with the community, it is a chance for them to learn about different identities that exist in our world. Building an open mindset to different ideas, circumstances, and situations is a crucial building block for the youth of today.
We are honored to provide a platform to amplify the voices of our amazing LGBTQ mentors. What else would you would like to share?
Acknowledging that there are diverse voices to be heard is the beginning of inclusivity and equity. Representation is important and we hope that any LGBTQIA+ youth out there know that we are one big family. We are here to tell you that you belong, your identity is valid, and that there is nothing wrong with you.
If you are having a hard time right now, please know that your life is worthy and there is a whole queer community and allies out here to support you and point you to resources. You are beautiful, worthy, and have so much to give to the world.
---
Interested in volunteering as a mentor? Attend an informational with Big Brothers Big Sisters and the LGBTQ Center OC on July 7! Hear from current LGBTQ mentors about their volunteer experience and learn how to sign up to become a mentor.